I've heard much about Roy's over the years from friends and strangers alike, and the comments have been rather divided, ranging from "It's great Hawaiian Fusion!" to "Terrible." While it's a chain, the positive comments have still backed the restaurant. Still, I wasn't too enthused with actively trying it, but on a Thursday evening, I found myself standing in front of Roy's in San Diego, circumstances nudging our party into the restaurant lined with Tiki Torches along the outside.

The exterior and interior decor screamed "touristy" and "trendy" but we continued on. Looking over the menu, at least Roy's was up front about its culinary point-of-view: There was a brief description about Roy's influences while growing up, and that this was "Hawaiian Fusion Cuisine" bringing in flavors of Hawaii, Japan and European cooking techniques. This branch of Roy's was headed by Chef Partner Justin Haifley, a chef within the Roy's restaurant group for over seven years, helping kick-start a few Roy's locations over the years.

I started off with a Guava Mojito, which was pure Guava fruit puree, blended with Bacardi Limon Rum, Lime Juice and freshly muddled Mint. This was surprisingly good, and one of the better cocktails I've had in recent months.



We started with a Roy's Canoe Appetizer: Chilled Tropical Shrimp Cocktail, Szechwan Spiced Baby Back Ribs, Lobster Potstickers, Spicy Ahi Sushi Roll. The dish arrived on a long, canoe-shaped plate, and we dug in.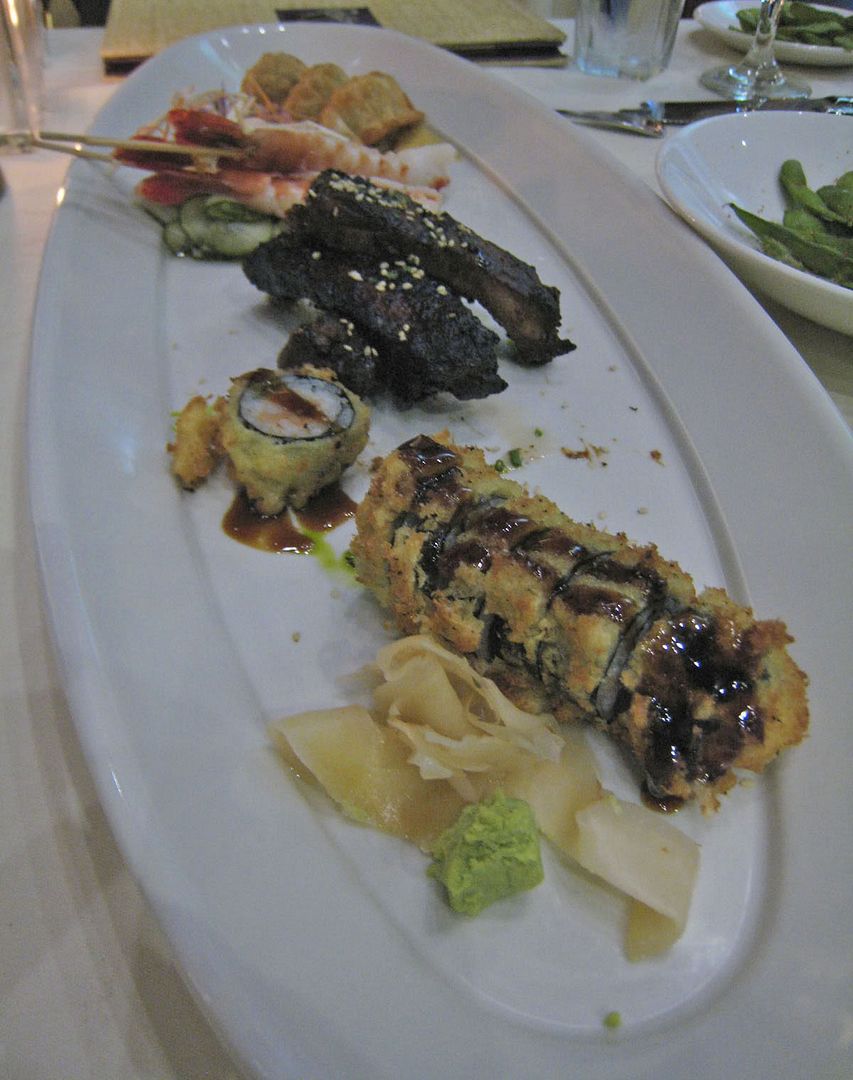 The Lobster Potstickers were overfried, and the skin on the Potstickers were far too thick. The Lobster filling inside was decent, tasting of more creme than Lobster, all blended together in a puree-style filling.

The Spicy Ahi Sushi Roll was approached with some trepidation: Fusion Sushi is definitely not a way I would enjoy eating raw fish, but we took a bite and ate no more of that abomination after that. (~_~) This Fusion Sushi Roll was so crammed with seemingly random textures and flavors, that you couldn't even taste the Ahi Tuna if there was any inside.

Moving on, we sampled their Chilled Tropical Shrimp Cocktail, which was much better: Nice, large Shrimp, very fresh and delicious. I couldn't figure out what was "Tropical" or "Fusion" about the Shrimp other than the slightly skewed cocktail sauce it was served with.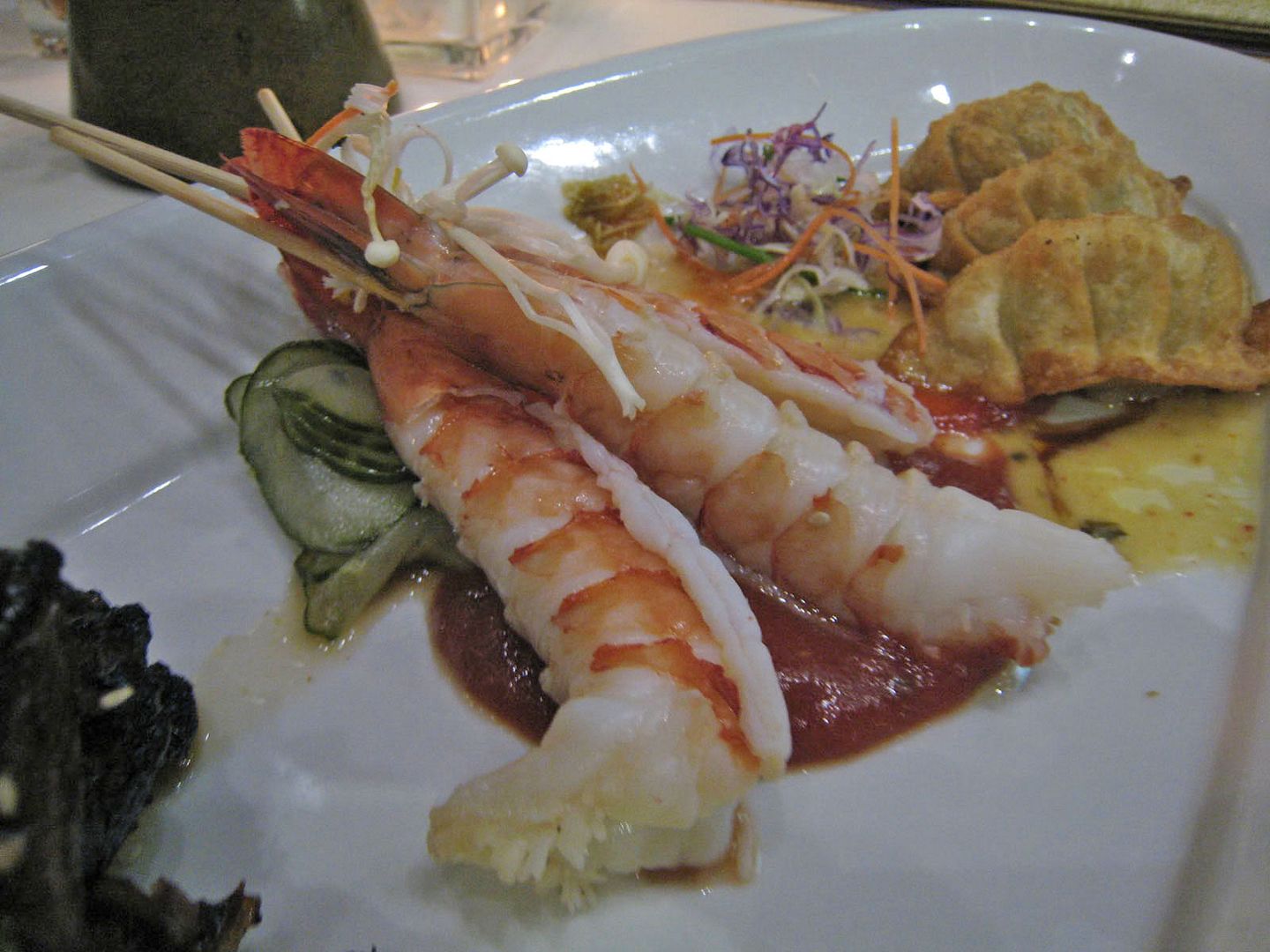 And their Szechwan Spiced Baby Back Ribs were actually very tasty. The photo doesn't do it justice (it wasn't burnt although the dark colors may make it look that way), but the Baby Back Ribs were cooked pretty well, with a nice lightly sweet and spicy blend of flavors that tasted of Hoisin Sauce mixed with some Chinese Chili Paste, plus a traditional BBQ Sauce.



Our server mentioned that Seafood was definitely Roy's strongest point, so one of my guests ordered a Roy's Classic Roasted Macadamia Nut Crusted Mahi Mahi, in a Lobster Butter Sauce. Our server chimed in that this was "probably the best dish on the menu." Unfortunately, the Mahi Mahi was slightly overcooked, being a bit dry. The Macadamia Nut flavors were also almost non-existent. Overall, this was decent, but if this was their best dish on the menu, then Roy's has some problems.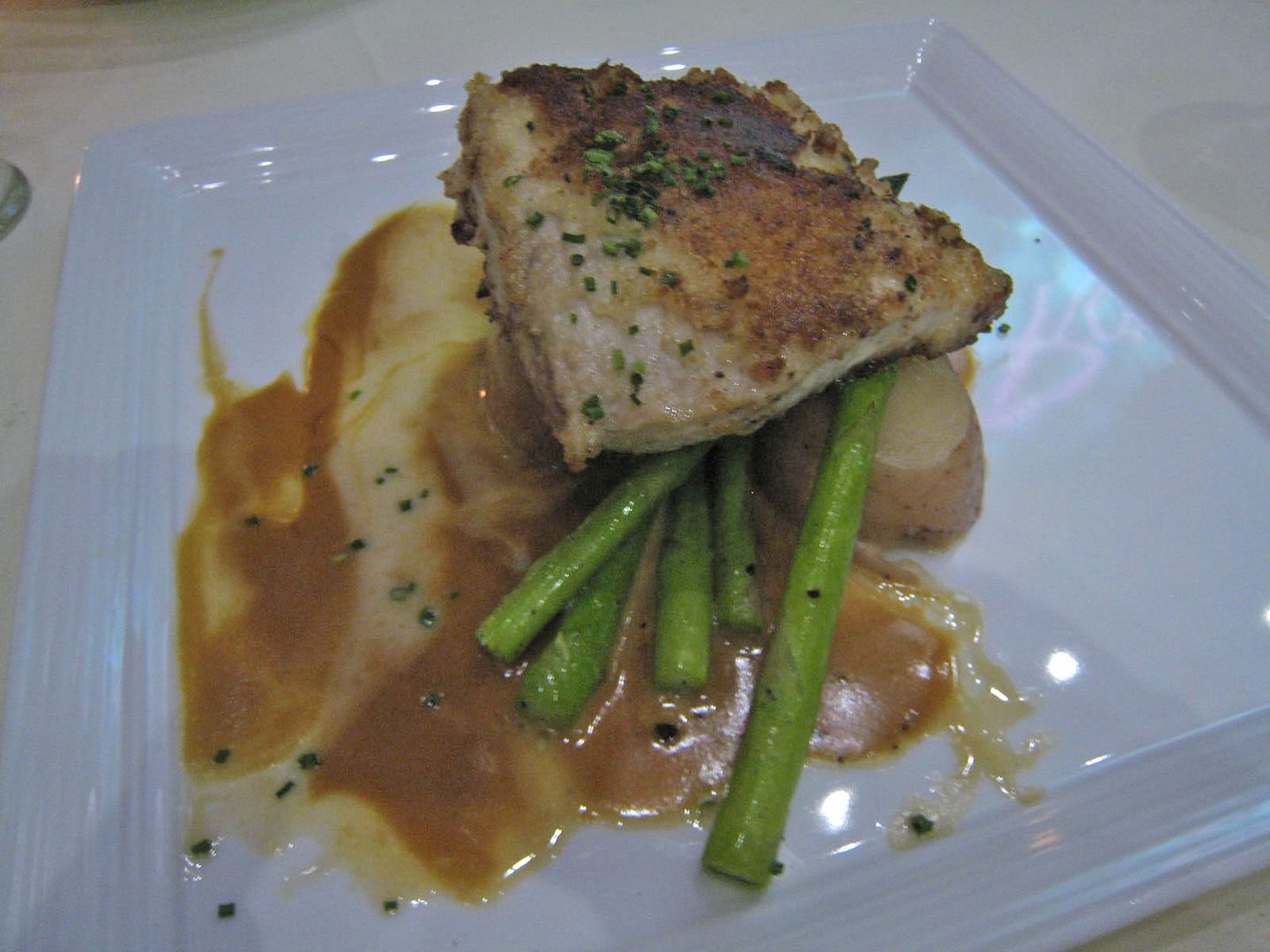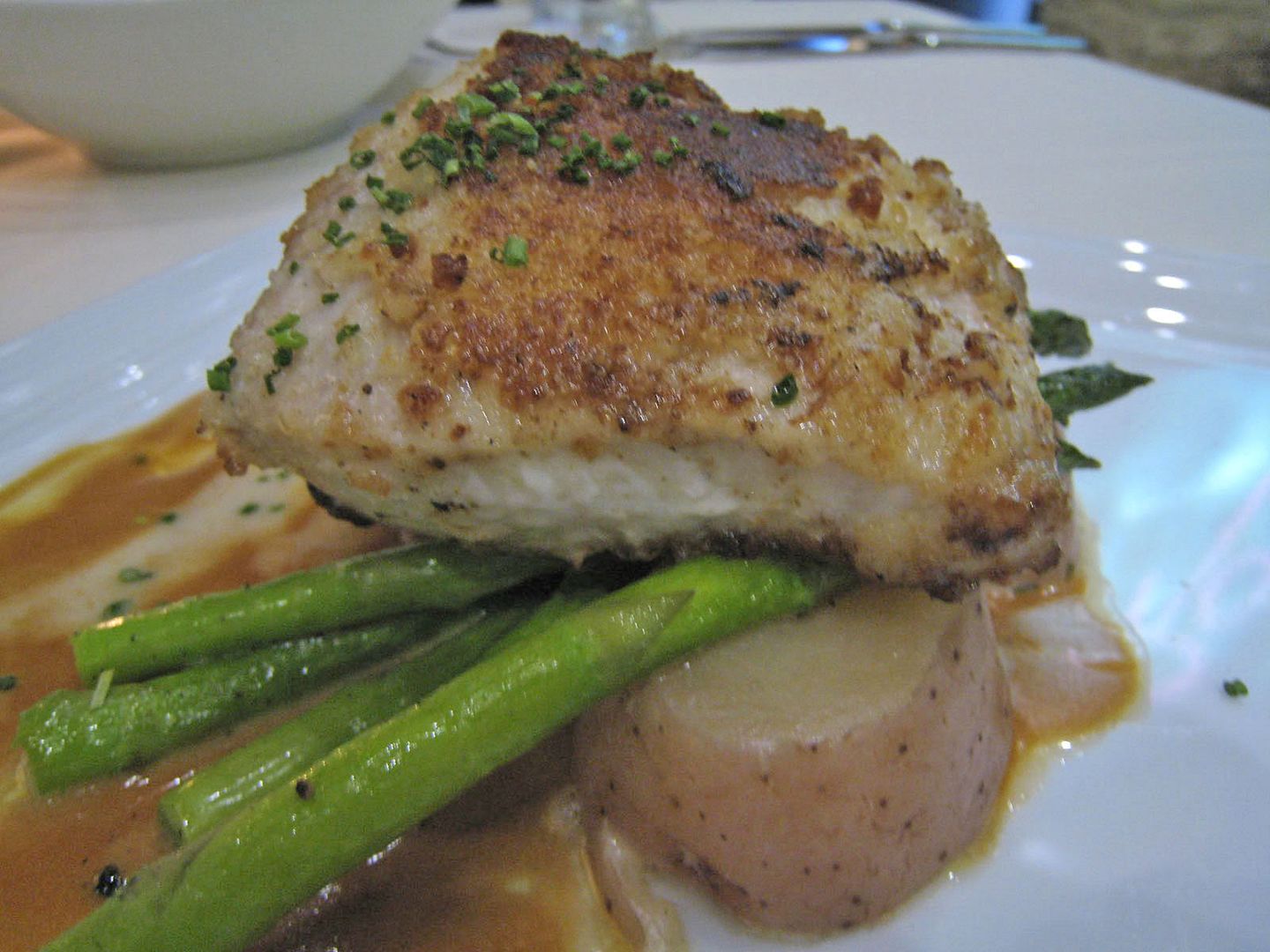 The other entree we tried was the Hawaiian Style Misoyaki Butterfish. Butterfish is one of my favorite cooked fish dishes, so I was curious and eager to see how Roy's would prepare it. Butterfish is inherently fattier than many fish, but Roy's preparation for this dish was a mess. The Miso sauce was too sweet, seemingly made for more "mainstream" palates, and the Butterfish itself was an unnerving texture violation: It had the consistency of Apple Sauce, but without the grittiness. How it managed to hold its original shape was impressive, but the texture wasn't very pleasant. It was cooked sous-vide, and then finished off under a broiler, and while sous-vide is normally one of my favorite techniques for cooking a variety of proteins, here, it just fails. The Cha Soba (Green Tea Soba Noodles) were competently cooked, using a standard store-bought Noodle, and it would've paired with the Butterfish nicely if it wasn't for the state of the Butterfish itself.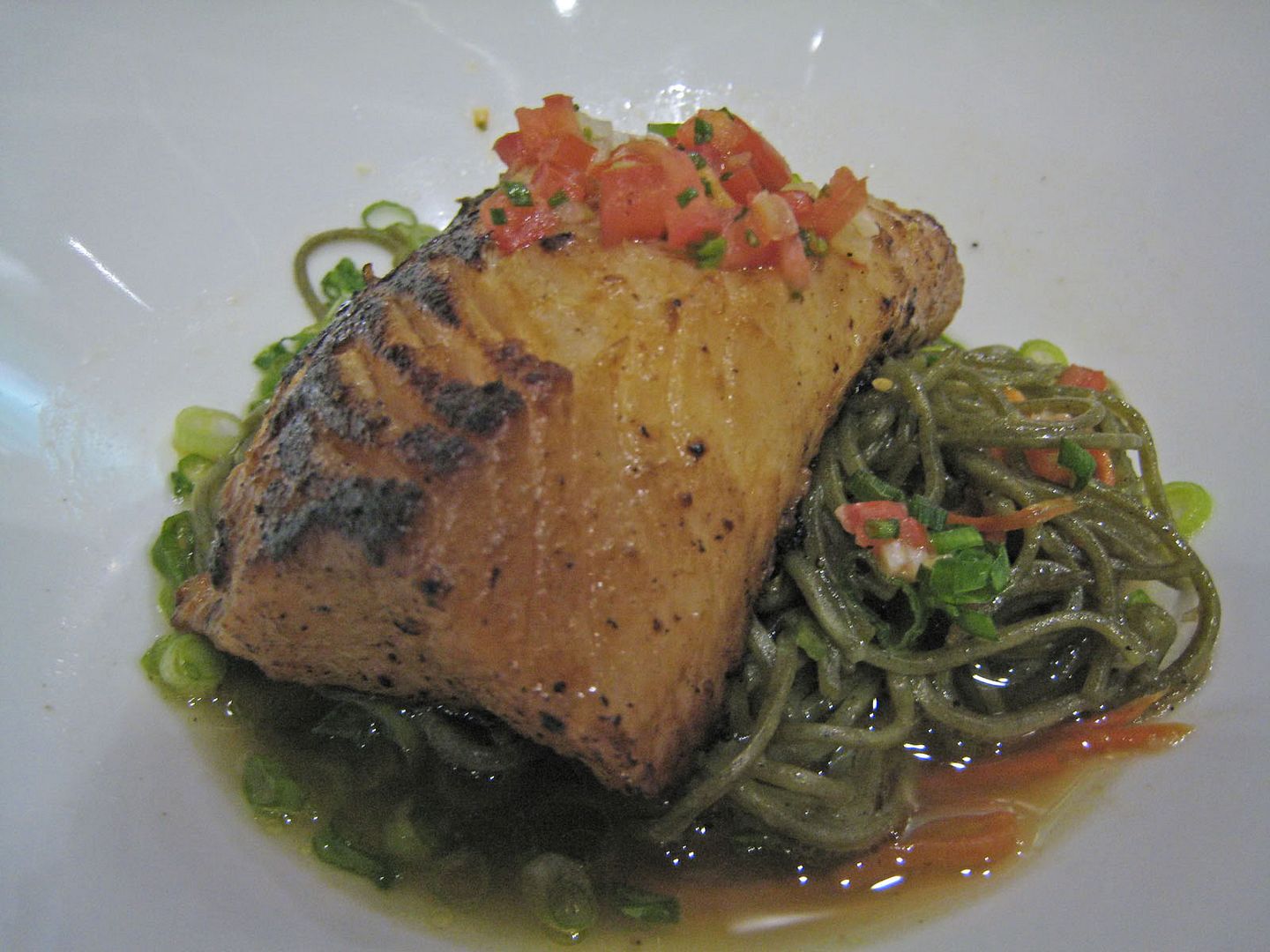 We were actually pretty full at this point, and didn't want to risk any other "Fusion" encounters with Dessert, so we asked for the check instead. :) The service throughout the evening was typical for a chain restaurant, nothing great, but not bad, either. Our waiter was a bit too overbearing with his "these are my favorite items on the menu" and "you should definitely try [insert dish]!" exclamations, but besides that, nothing egregious. Our total came out to be ~$65 per person (including tax and tip).

Ultimately, Roy's is a slightly-upscale, Touristy Hawaiian-themed mainstream restaurant, offering Pan-Asian Fusion cuisine, but poorly executed with mistakes from overcooking, to just oversauced, nearly inedible items (Fusion Rolls). For non-discerning palates, Roy's seems to be a success, judging from the lines, and a completely full restaurant on a weeknight. However, those seeking great Hawaiian, Japanese, or Asian Fusion cuisine, should steer clear. Disappointing.

Rating: 3.8 (out of 10.0)

Roy's - San Diego
333 West Harbor Drive
San Diego CA 92101
Tel: (619) 239-7697

http://www.roysrestaurant.com/