(To play off of Grace's website...)

UNDERWHELM (ŭn'dər-hwělm') tr.verb To fail to excite, stimulate, or impress

Grace has been one of the restaurants that's been on my "must try" list since the first time I read about it on Chowhound. I've always wanted to try it, but never got around to it, until last week. With the amount of talk about Grace and reading about their fun Doughnut Shoppe and Burger nights, in addition to their tasting menus, I was really excited. I grabbed two fellow Hounds (that really appreciate Plating and Creativity in addition to Taste), and off we went.

Grace is located on a quiet stretch of Beverly Boulevard, and has a nice, understated ambiance, with clean lines and a modern decor, which was apparent from the moment we stepped in at 6:00 p.m. on a Saturday night.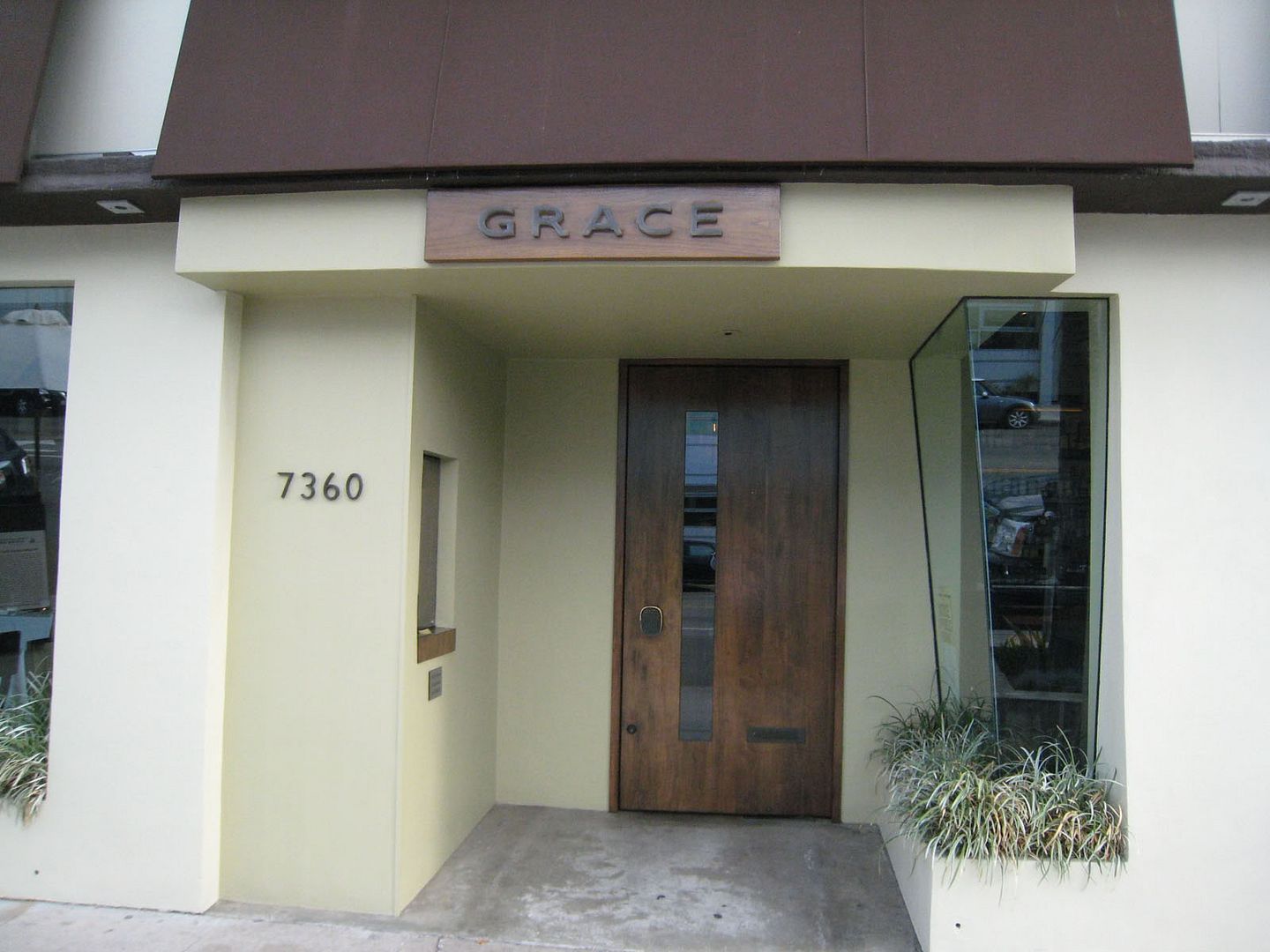 Perusing the menu, there were quite a few items on the regular menu that looked interesting and inspired. Looking over their two Tasting Menus, we decided to go all-out and try their Chef's Menu, which our server described as a 10 Course Dinner that "leaves the menu up to the chef's creativity." I had heard much about Chef Neal Fraser's creations at Grace, so I was excited to see what he would come up with. Unfortunately, disappointment began to set in from the very first dish and was a theme throughout the night.

Our first dish in the 10 Course Chef's Menu was Corn Soup with Santa Barbara Prawns, combined with Cipollini Onions and Micro Greens. The presentation was simple and clean, with the ingredients of the soup (the prawns, onions and micro greens) presented "naked," and then the Corn Soup was poured over the top afterwards.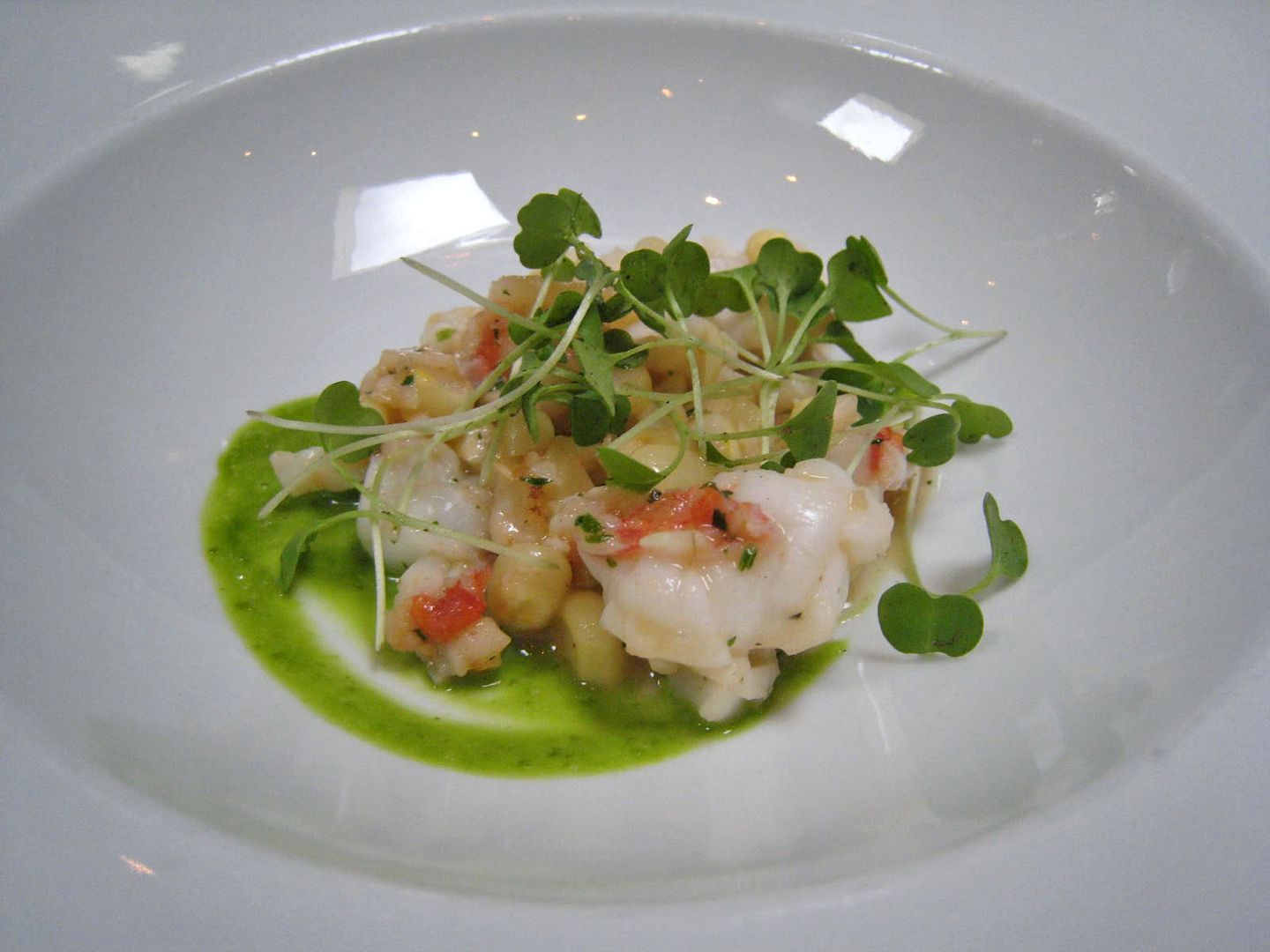 With the nice plating, we couldn't wait to try the soup. We took one bite, and it tasted just like Corn Chowder. The flavor of the Corn and thick Chowder-like consistency really overpowered everything else. It was a *good* Corn Chowder, but all any of us could taste and think of was that we were eating a Corn Chowder with a few chunks of prawns inside. Rather than being as interesting as the initial presentation, the final result was boring and mundane.

Next up was a Halibut Sashimi and Tomato Gelee with Avocado, topped with Extra Virgin Olive Oil.



I really liked the rustic, clear glass plate that the Halibut Sashimi was served on. Unfortunately, the rest of the plate looked like a mess as you can see in the pictures (my two companions' plates were even more sloppy and disheveled than mine). When looking at the half of the plate that wasn't drenched in a pool of olive oil, it looked like an inspired dish. But the taste was the most important aspect, so we dug in: The Halibut Sashimi was fresh, but had tendon / "gristle" running through each piece. Of course it's not fair to compare a simple appetizer here to the best Sushi bars in town, but if you're serving Sashimi in L.A., there will inevitably be comparisons. The Avocado and Olive Oil overpowered the Halibut as well, with each bite tasting of an overwhelming Olive Oil fragrance and creamy Avocado, instead of the star of the plate: Halibut. And the Tomato Gelee added nothing to the dish.

Continuing on, our third course was: Herb-Encrusted Day Boat Scallop with Morel Mushrooms, served with Peas, Corn and Carrot Nage.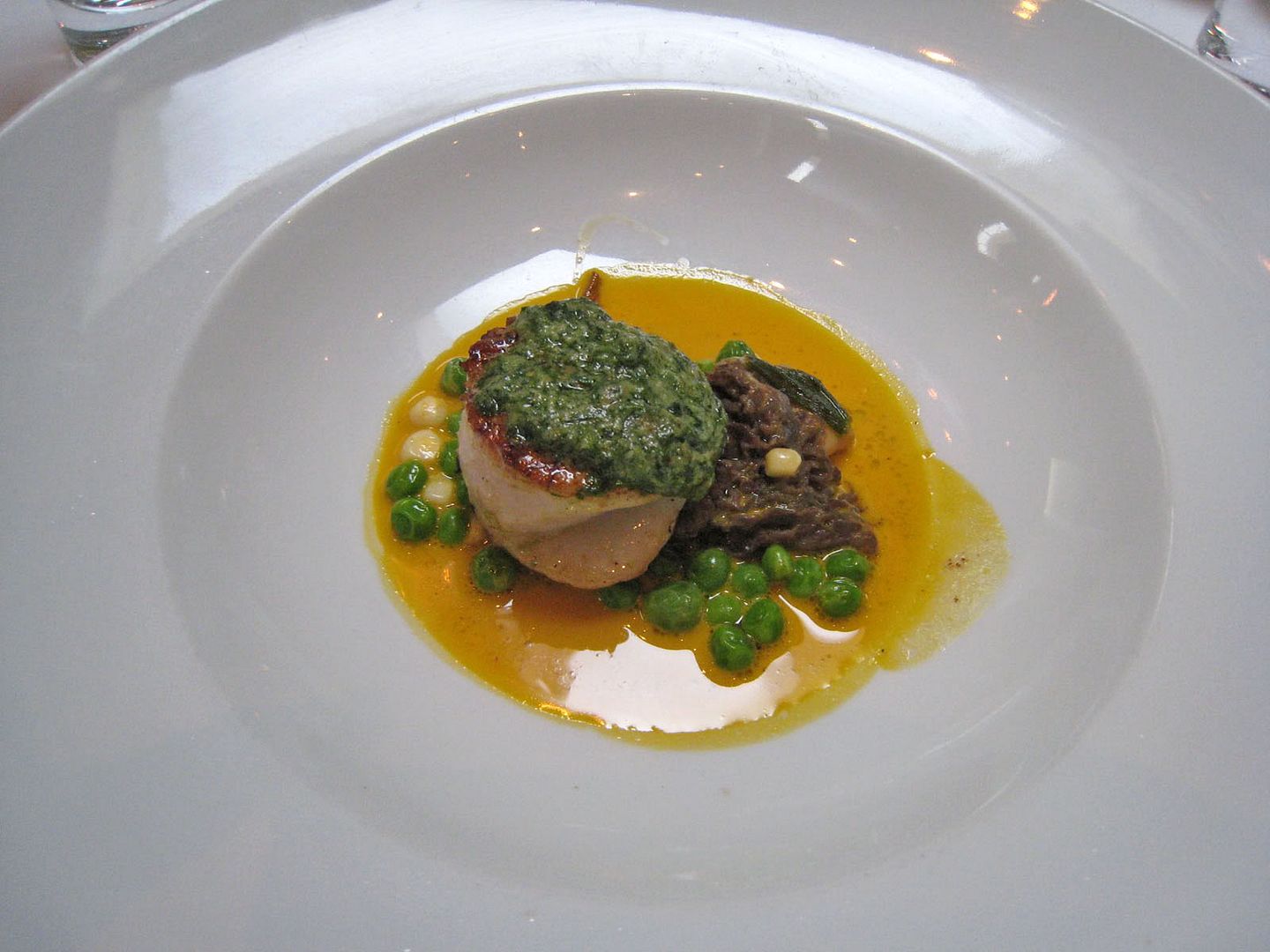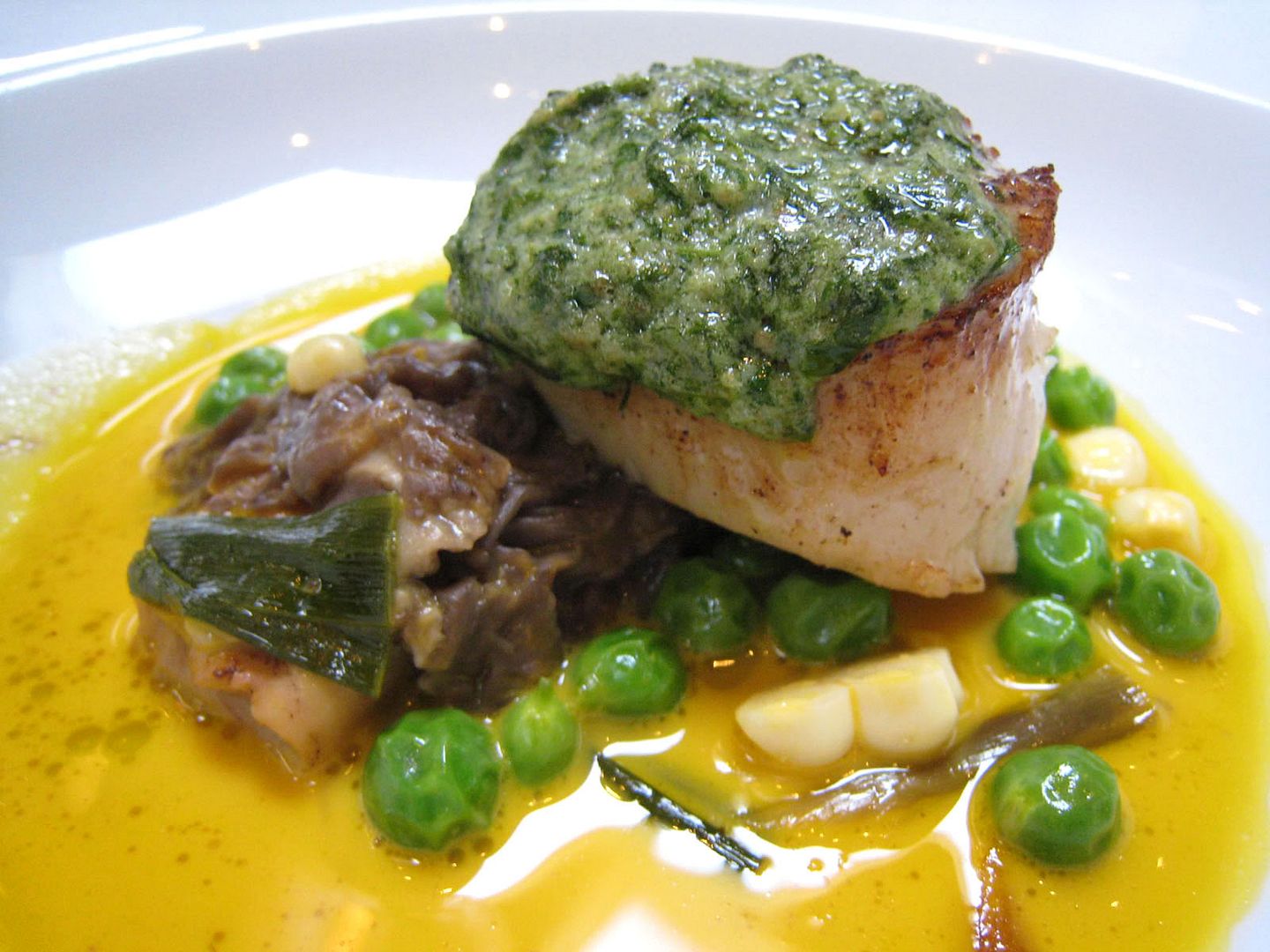 I loved the visual contrast between the green of the Herb-Encrusted Scallop and the striking Yellow-Orange Carrot Nage that it was sitting in. The Day Boat Scallop itself was lightly sweet and fresh, but when combined with the Peas and/or Corn, it was again, overpowered by the supplementary ingredients. Frozen Peas have a tendency to connote a sense of cheapness or utilitarian quality, and its inherent aroma and strong flavor here really put a damper on the Scallop itself, rather than accentuate it (they tasted nothing like fresh Peas (and with the abundance of great, local produce, it's odd that they didn't use the fresh version in this case)). In addition the Carrot Nage while striking in color, added too much sweetness to an already sweet dish.

The next course was a Duck Breast with Foie Gras, atop Polenta and Fried Chickpeas.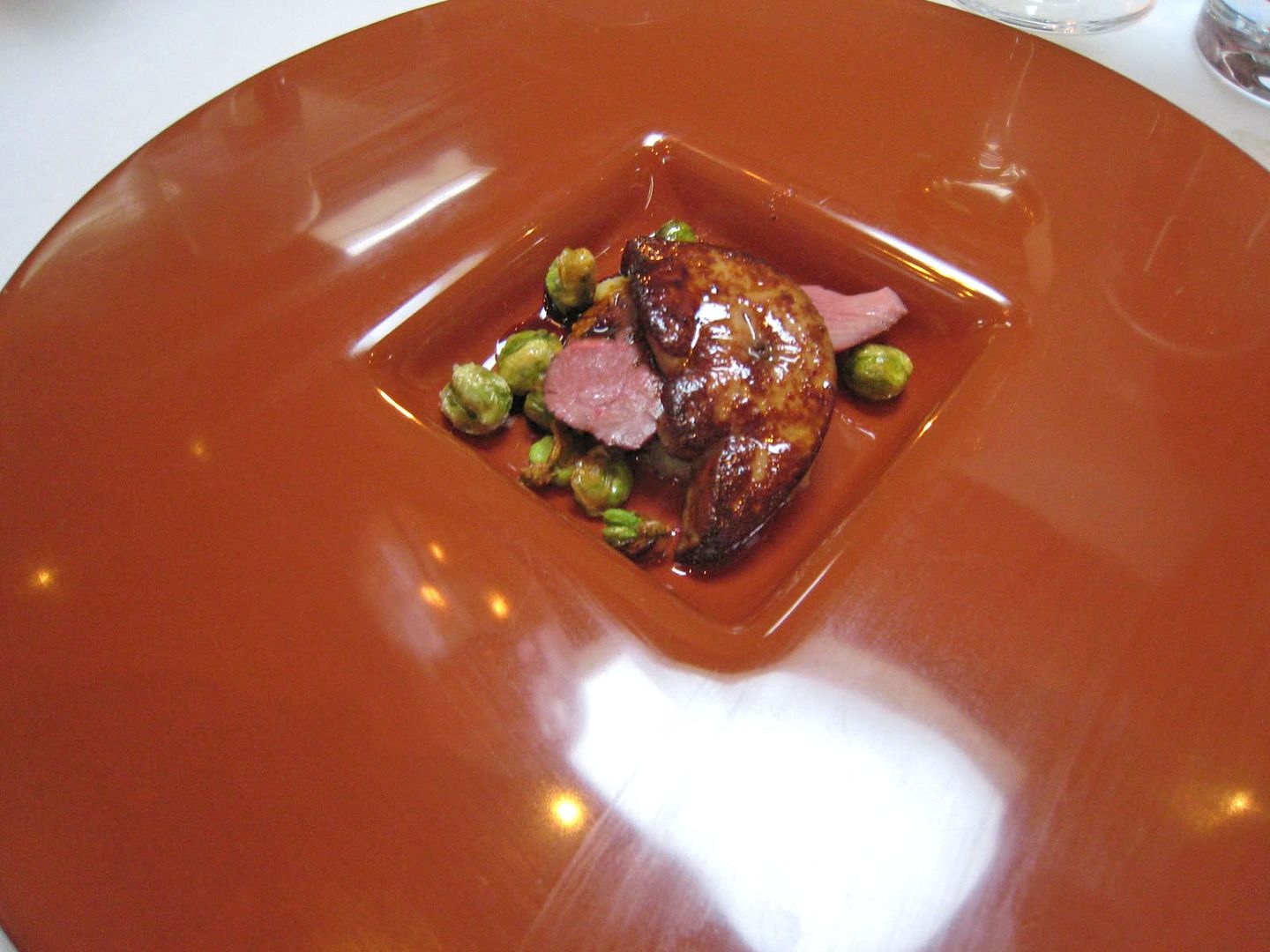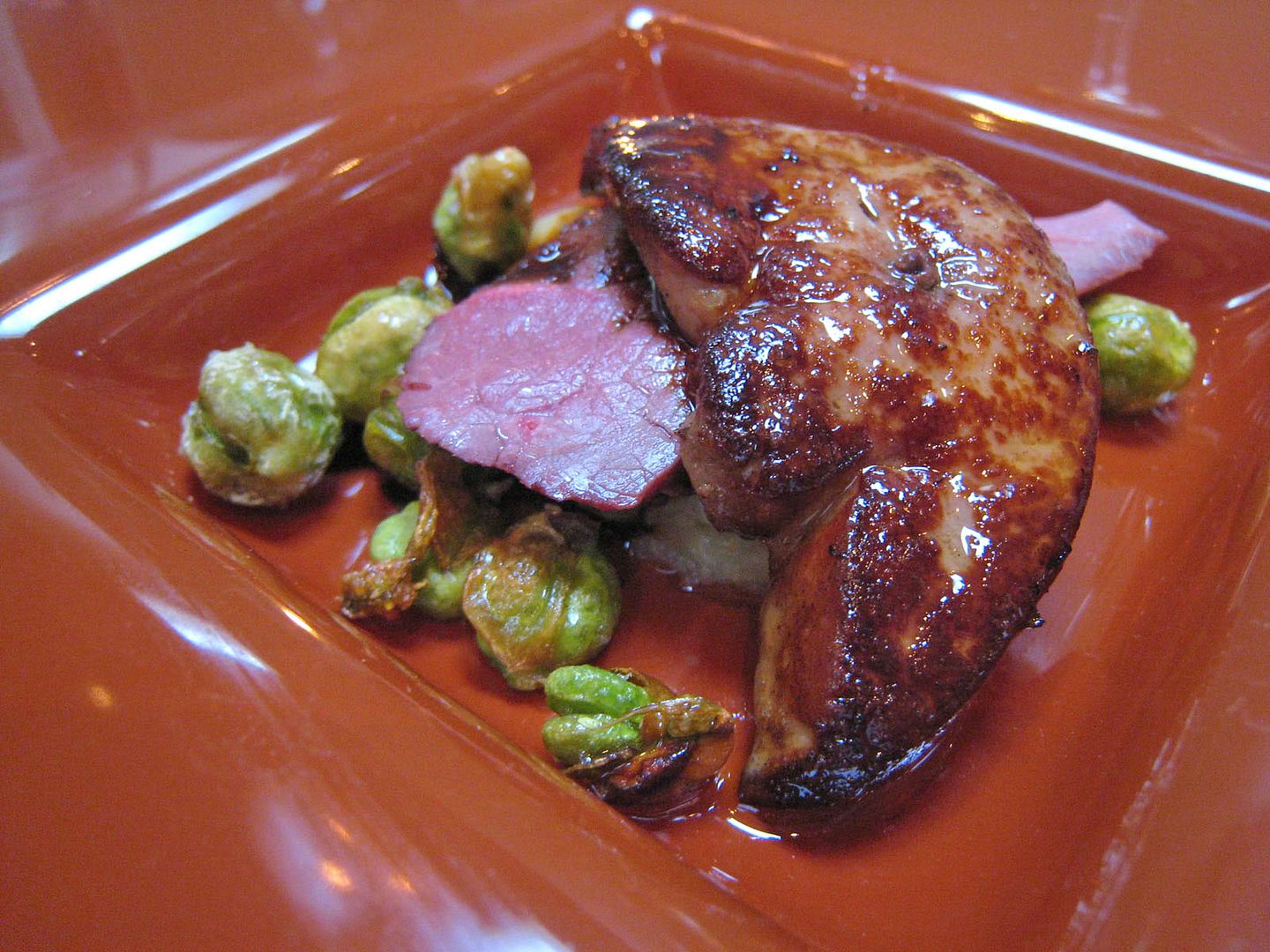 It was served in a beautiful red-maroon plate, but it felt oddly matched with the brown-red of the Foie Gras and pink-red of the Duck Breast. Despite that, the contrast of the rich-green Chickpeas that bordered the dish helped draw in visual intrigue. The Foie Gras was seared to perfection, wonderful, buttery and decadent as only Foie Gras can be. However the Duck Breast was a disappointment: Lukewarm-to-Cold in temperature and tough and chewy. It was especially contrasted since the Foie Gras next to it was so creamy and soft. Matching a bit of the Foie Gras and Polenta with the Duck Breast only further highlighted just how tough the Duck Breast was. The Fried Chickpeas were very tasty, though.

Next up was the Bacon Wrapped Saddle of Rabbit with a Vegetable Byaldi and Fennel Nage.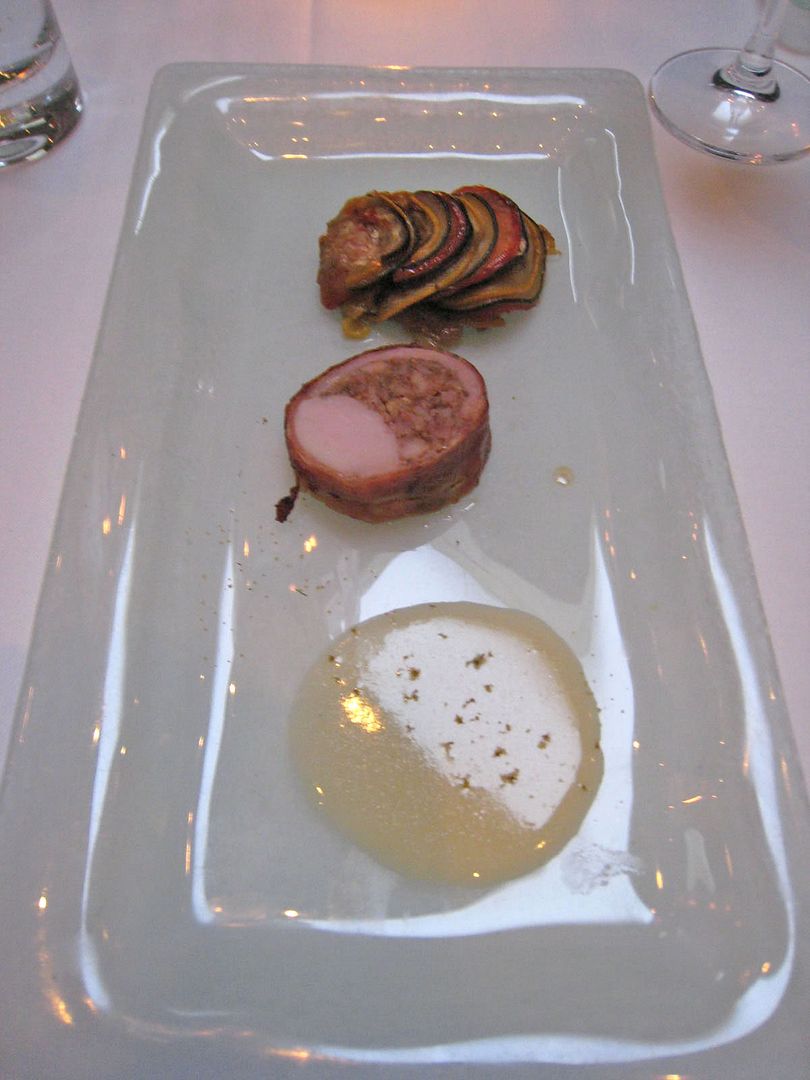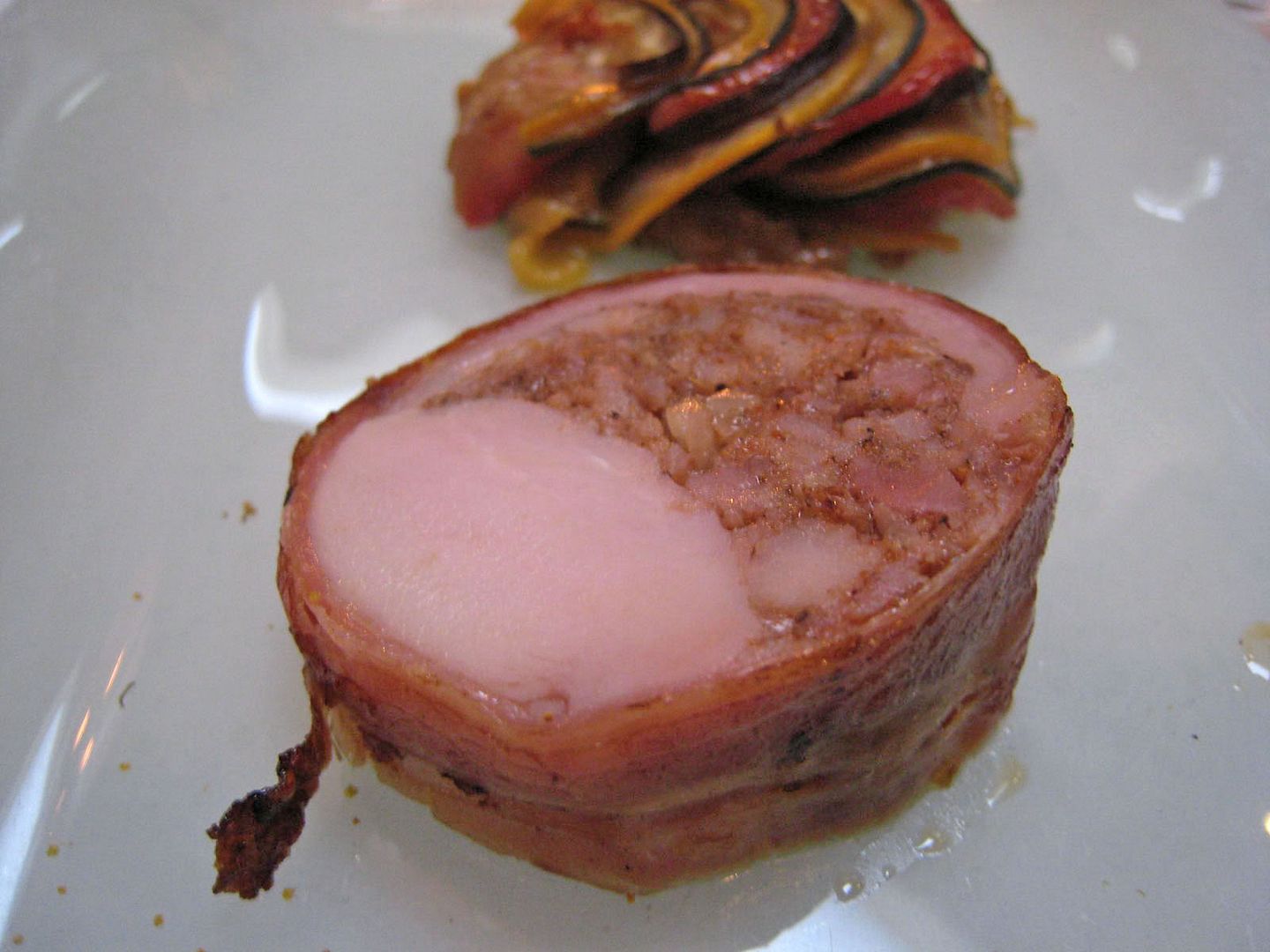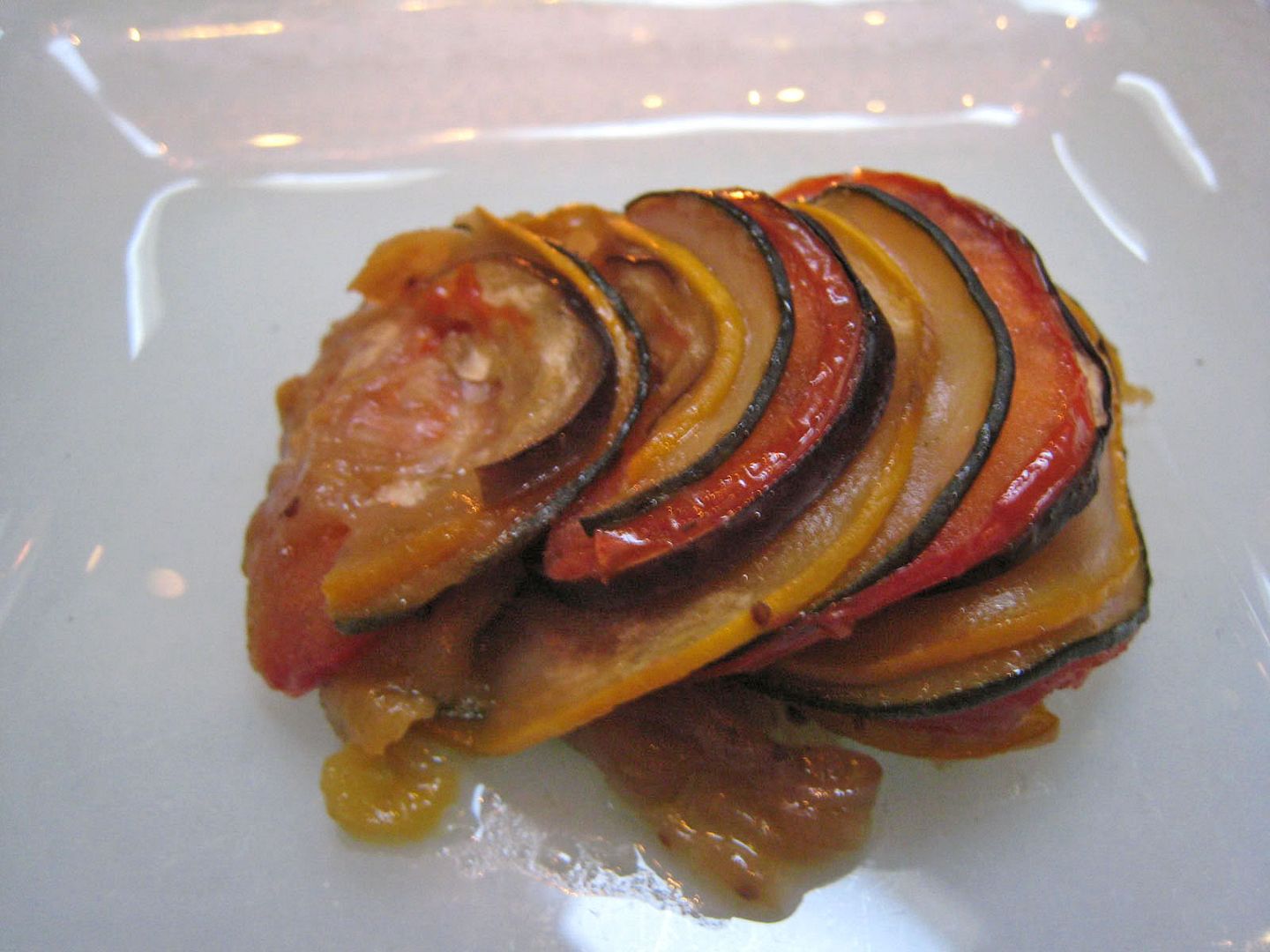 The Rabbit was a bit too smoky, taking in too much of the Bacon perhaps. It was moist, but very lean (as Rabbit inherently is), and in this preparation style, it tasted almost like a slightly gamier Ham. The Fennel Nage helped add a nice perspective to the dish, but it was underwhelming. The Vegetable Byaldi was a visual treat: It reminded me immediately of Disney/Pixar's Ratatouille and its unique interpretation of the classic dish. This Byaldi consisted of thin layers of Zucchini, Tomato, Squash and Eggplant. It tasted exactly like the four main components of this dish combined together and baked, nothing more, nothing less.

By this point, we had gotten a sinking feeling that Grace might not be all it was hyped up to be, but we got a glimmer of hope with their Braised Beef Short Rib, Baby Carrots & Sugar Snap Peas, Broccoli Flan and Garlic Nage.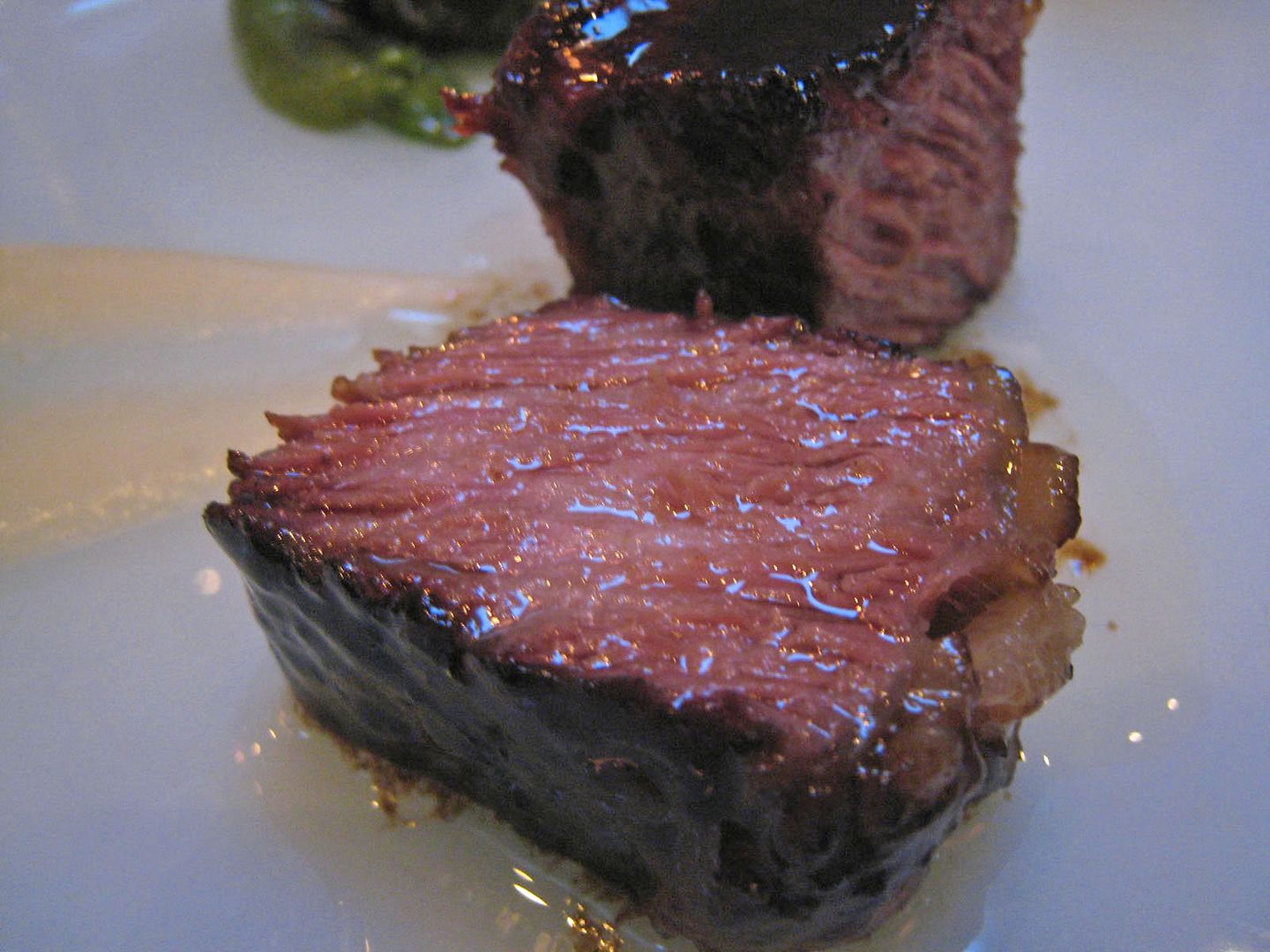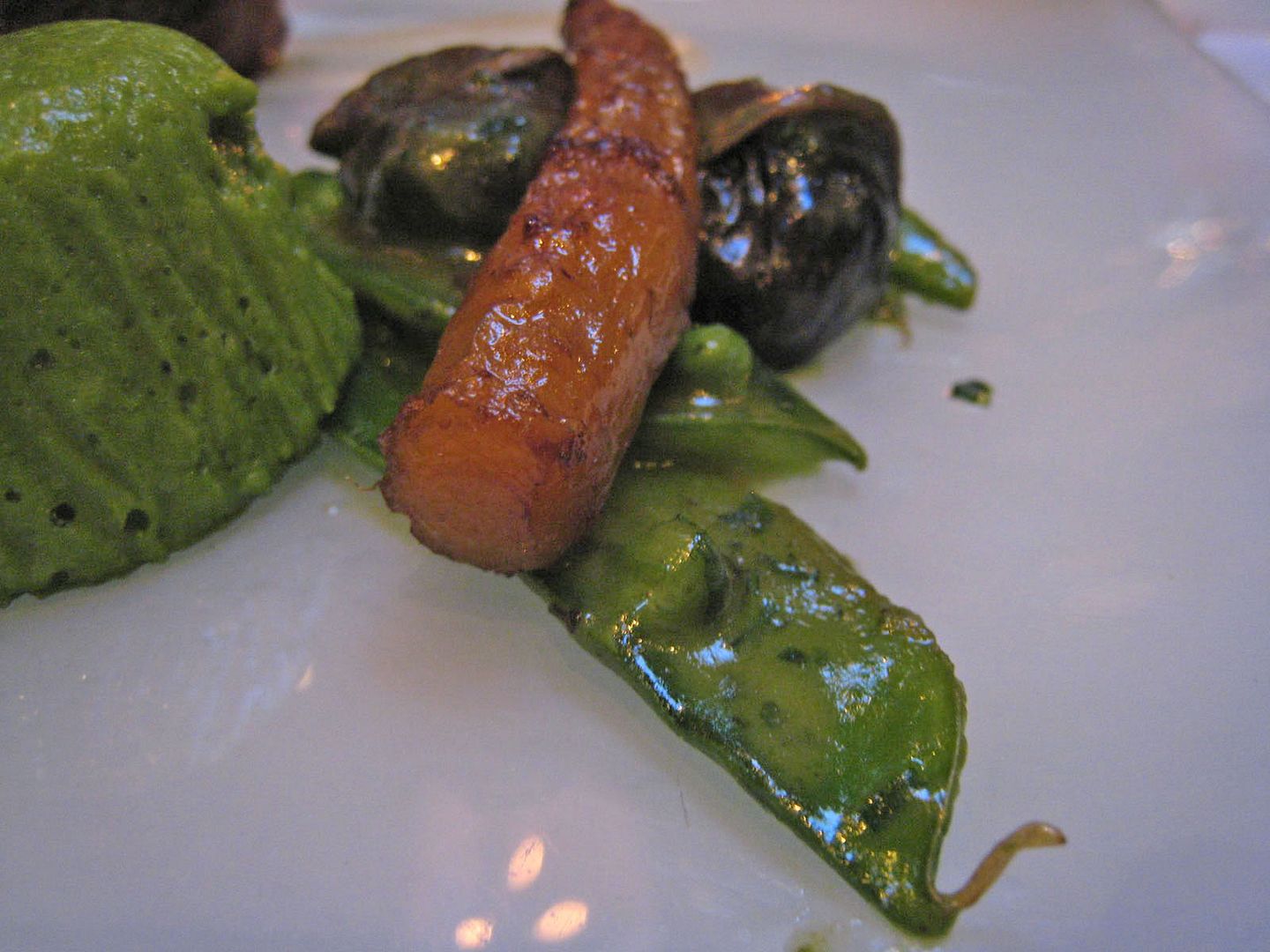 This was by far the highlight of the evening, and the one dish that really showed promise of what Chef Neal Fraser could do. The Braised Beef Short Rib was mouth-wateringly delicious! Super tender, beautifully slow-braised and exuding an amazing beefy and decadent taste that can only be achieved by slow-cooking and care. The Broccoli Flan was also a revelation of unique taste: Wonderfully garlicky and as soft and delicate as a good dessert flan should be, but only here, it was savory, filled with a fresh broccoli and garlic essence. The Sugar Snap Peas and Carrot were simple and serviceable, but the Garlic Nage was another excellent complement to the dish, adding a nice facet to the Beef Short Rib when dabbed.

At this point, our server informed us that the dessert portion of the Chef's Menu was beginning. We began with a Cheese Plate of two Cheeses: A soft San Andreas Sheep's Milk Cheese, and a semi-hard Sunlight Goat's Milk Cheese. Both were fairly mild and decent, but nothing spectacular.



Next was A Doughnut Retrospective: Strawberry filled, Butterscotch filled, and "The Elvis," served with Vanilla Ice Cream.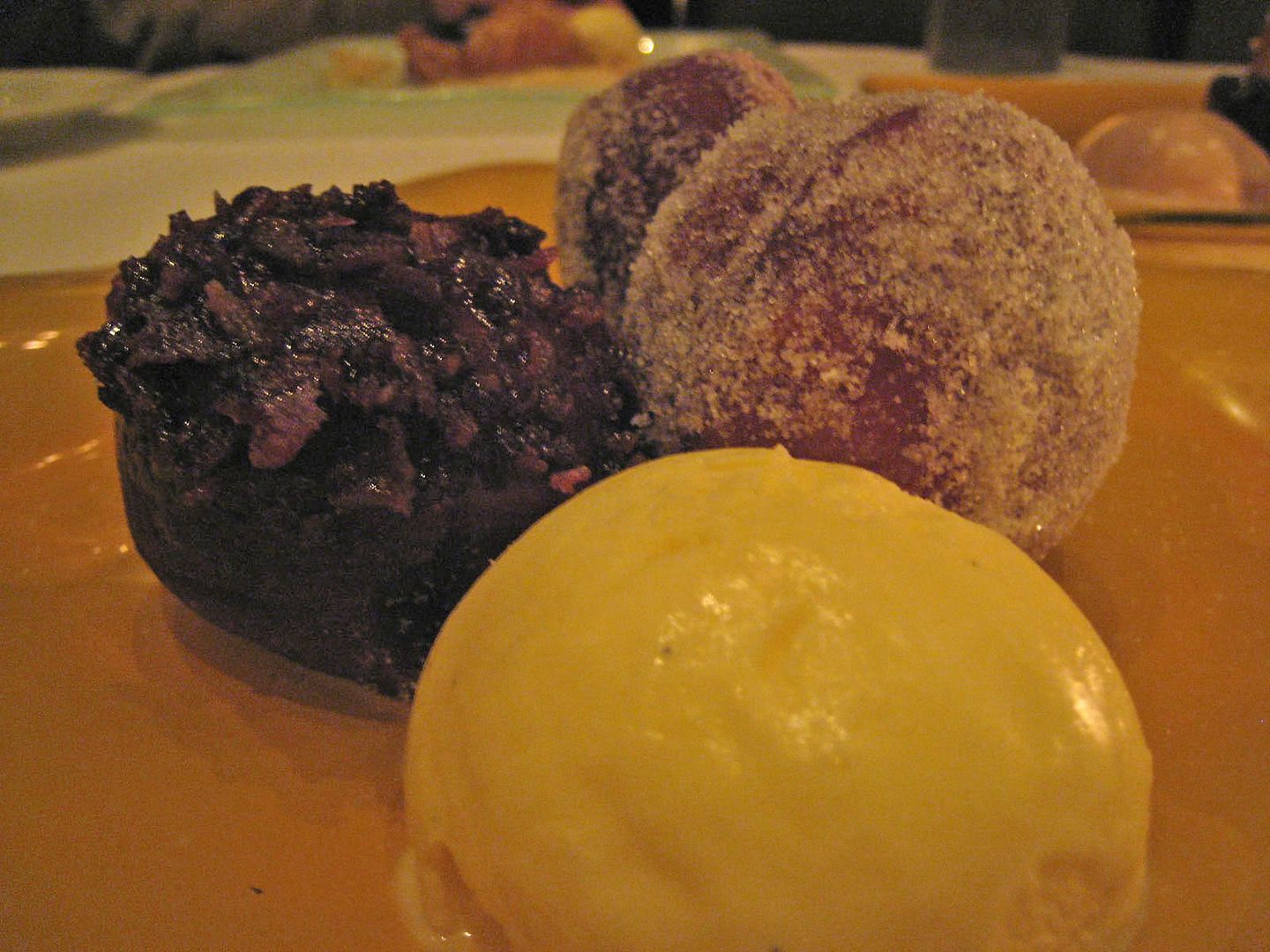 This was the only other highlight of the evening, a wonderful trio of their homemade Doughnuts (featured on their 5 Year Anniversary Tasting Menu). The Butterscotch filled Doughnut was just fine, nice and light, and the Strawberry filled was also nicely done. But the highlight was definitely "The Elvis" Doughnut, featuring Banana, Peanut Butter, and *Candied Bacon*! As gross as it sounded, the taste was nothing short of amazing! This was by far the best doughnut I've ever had, and it was nicely done. It should be noted at this point, with this Doughnut plate, and the following two desserts that they were served "family style," with only one serving for the three of us to share. It was just fine, since we were so stuffed at this point, but it's worth noting for those wanting an individual portion / plating for each of these desserts.

The next dessert was a Blueberry Almond Turnover with Fromage Blanc Ice Cream.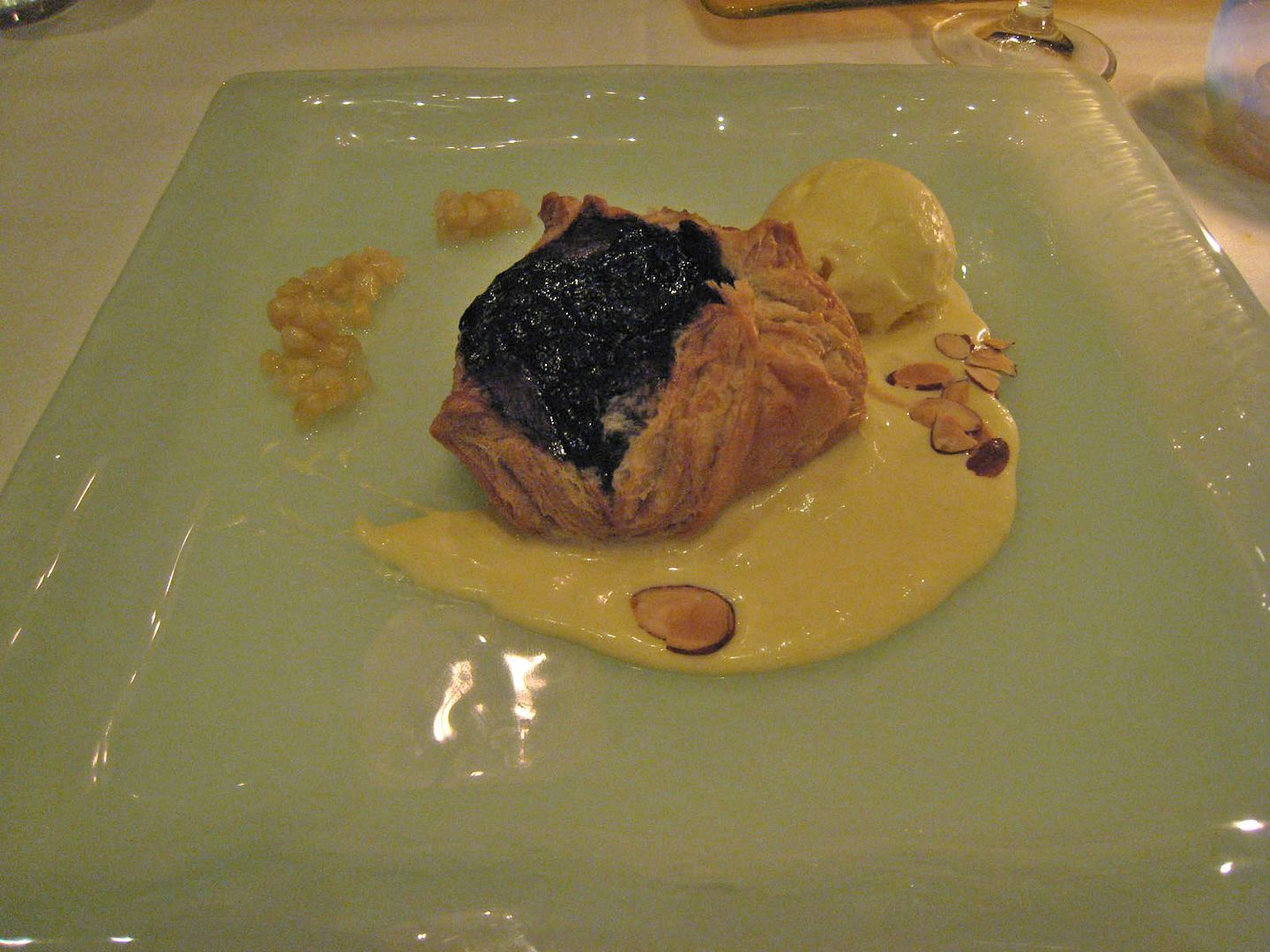 The Blueberry Turnover was competently executed, but nothing outstanding, with a decent flaky pastry and a not-too-sweet interior. The Fromage Blanc Ice Cream was very good, however. It was creamy and fragrant, without being too cloyingly sweet, as say a standard vanilla ice cream would've been here.

Finally, we ended with a Toffee Pudding topped with Carmelized Bananas and Hazelnut Ice Cream.



The Toffee Pudding was more like a cross between a moist cake and a bread pudding; drier and crumbly instead of a creamy pudding that we thought it was going to be. This was too sweet in many ways, and when combined with Hazelnight Ice Cream, it became a sugar overdose waiting to happen.

Service throughout the night was average at best: Our server was non-existent throughout the evening, and trying to get her attention when we did see her became a chore. Our total came out to be roughly $140 per person (including Tax and Tip). When we were leaving, I bumped into Amy Knoll Fraser and she confirmed that Chef Neal Fraser was in the kitchen and responsible for our Chef's Menu.

Overall, Grace Restaurant turned out be a decent, but underwhelming experience. I realized afterwards that 5 of the 10 dishes in the Chef's Menu were basically pre-existing dishes from their regular Menu or Tasting Menus, which added somewhat to the disappointment. After all, if (according to our server) the Chef's Menu option is to leave it "up to the chef's creativity," it seems like a bit of a letdown and copout to take 5 of the 10 Courses from regular menu items. Regardless of that, the flavor combinations and execution in most of the dishes just fell short of greatness: There was nothing "horrible" about any of the dishes, but many just had average execution or were overpowered by ancillary ingredients. And for the ~$140 per person price range, I would rather go to a variety of other restaurants around L.A. before Grace again.

However, there were flashes of brilliance - the Braised Beef Short Ribs and "The Elvis" Doughnut - and when combined with the clean, modern ambiance, Grace is one restaurant that I'll want to revisit one more time to see if I can't find more of the brilliance and less of the underwhelming.

Rating: 7.2 (out of 10.0)

Grace Restaurant
7360 Beverly Boulevard
Los Angeles, CA 90036
Tel: 323-934-4400

www.gracerestaurant.com