So after an interesting morning stroll through some streets near our hotel, we got a recommendation from a local Kyoto native about a good Yuba restaurant in the area known as Komameya. Yuba is the refined tofu skin made from soy milk, and while there are Chinese equivalents, Kyoto is known for their mastery and specialization in making an entire cuisine out of Yuba.

Just like Tokyo, on our very first day in Kyoto we were soundly reminded of the "interesting" and complex address system, only it seemed even harder to fathom in Kyoto. We had a map and the actual address and walked around quiet neighborhoods and a small street filled with merchants before finally being led to the restaurant by a kindly manager of a nearby business! (This was only the first case of many examples of the genuine Kyoto hospitality I'd heard so much about.)

Komameya was *literally* inbetween two residential houses in a completely residential neighborhood! It had a cute and quaint little exterior and if it wasn't for the kind lady, I'd probably never find it.



Once inside, it was a beautiful, well-kept interior with wood panel floors and nice ambiance.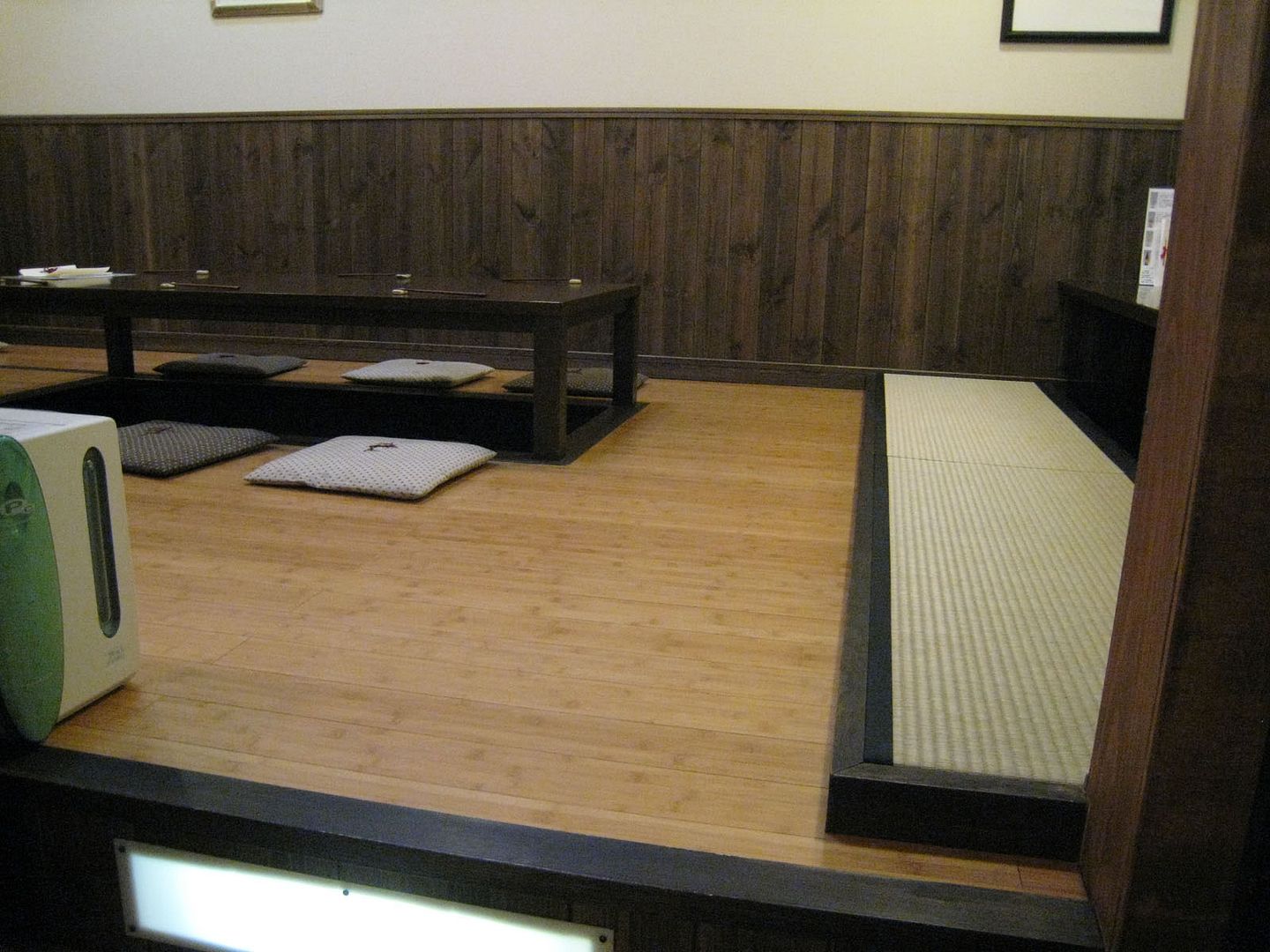 We sat down and ordered their Full Yuba Tasting Menu Course. This was my first introduction to Yuba (and I'm not vegetarian), and while I was at first hesitant and worried it might be just "bland tofu dishes," nothing could've been further from the truth. We started with a Yuba Salad:



It was a simple salad with fresh lettuce and tomatoes, and some interesting Yuba preparation resembling a "potato salad," but much more tasty. The Yuba was nice and simple, delectable.

Next came a flurry of Yuba dishes presented in a nice serving tray:



First up was a Yuba with Konnyaku dish.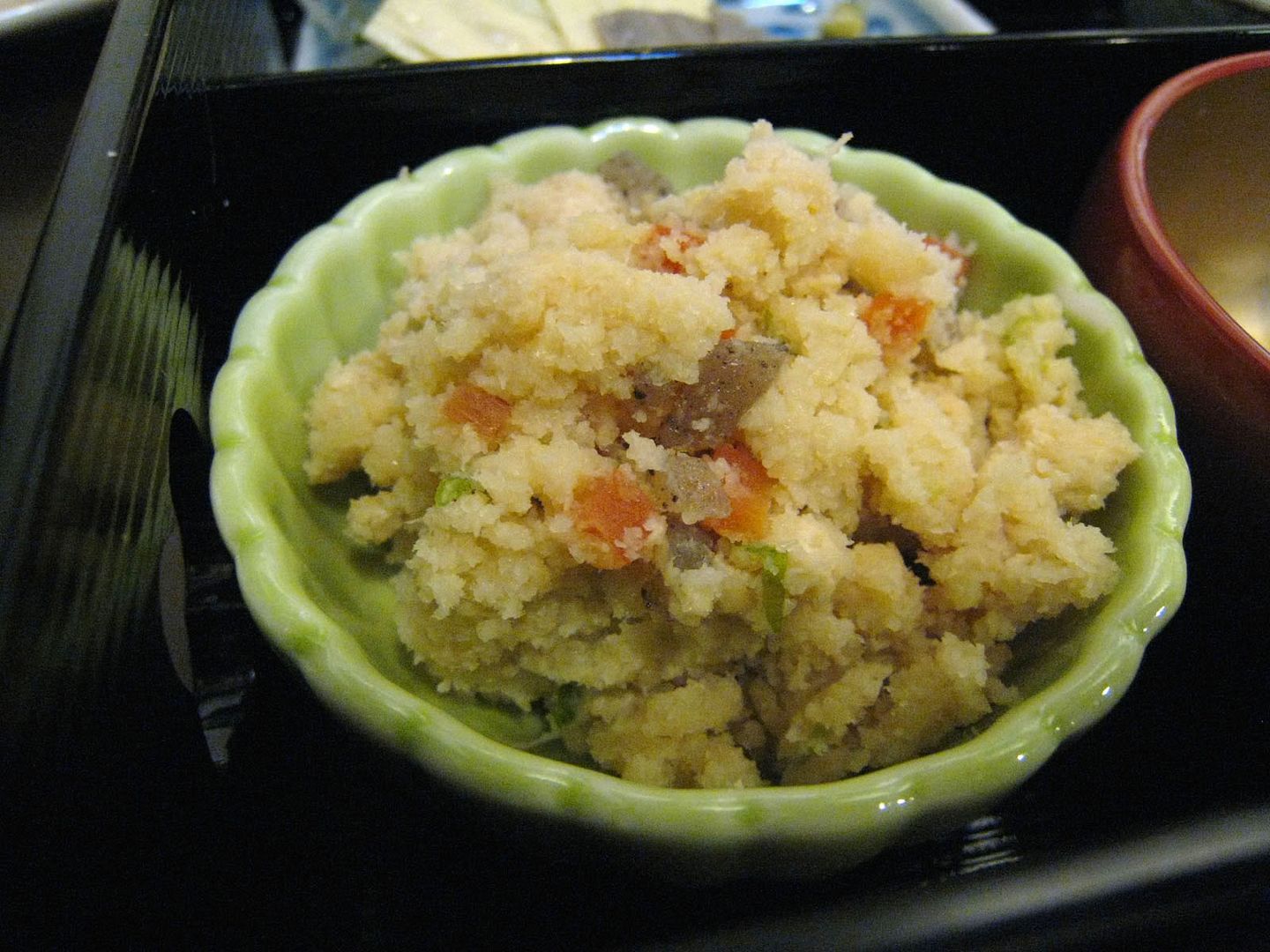 The Konnyaku worked nicely with the Yuba (non-intrusive) and the flavors and spices mixed into the mixture was really nice (really light, yet flavorful and an interesting texture combination).

Next was a Yuba "Meatball" / Dango dish.



This was using a different type of Yuba (as the waitress explained) and it was readily apparent from the darker color. The vegetables and darker Yuba and texture were completely different from the previous Konnyaku dish and was a nice variation.

After that was a Yuba Shumai dish(!). It was nice and hot and an amazing dish that tasted like meat, but was made out of Yuba! Very tasty and with a wonderful marinade that give it an "alternate steamed meat" flavor.



After that was Fresh Yuba. The waitress explained this was the purest presentation of Yuba in all its fresh glory, and was adorned with a simple soy sauce-based sauce. I've had "Tofu Flower" (Doufu Hua) at Dim Sum restaurants before, but this Yuba was *so* tender and nearly pure liquid, it was wonderful! The texture was so silky and light, and it was another excellent way to showcase Yuba.



After that was another Fresh Yuba dish, but with the alternate Yuba they had (the darker color version):



This version of Yuba was also silky smooth and the flavors stood out more from the traditional yellow/white kind of Yuba.

The last dish in the first wave of Yuba was fresh Yuba Skin (2 kinds).



Visually, this looked the closest to the more commonly found Chinese Tofu Skin, but in terms of taste, totally different. The darker black soybean Yuba Skin was really tasty in this preparation style.

Next up was an "Ageyuba" (Fried Yuba) dish which was absolutely amazing! I love Agedashi Tofu, but this was really tasty!



I would eat this regularly if the local restaurants back in L.A. served this. The black soybean Yuba had the most fragrant and wonderful taste in this Age dish.

Next up was a Yuba-Maki (roll).



Rolled Yuba with a Shiitake Mushroom. It was served cold, and tasted as if it was long-marinated in some mixture, and ultimately very tasty!

After this came their interpretation of the classic Japanese breakfast, Yuba-style. The Yuba Gohan (Yuba Rice) was nice and fragrant.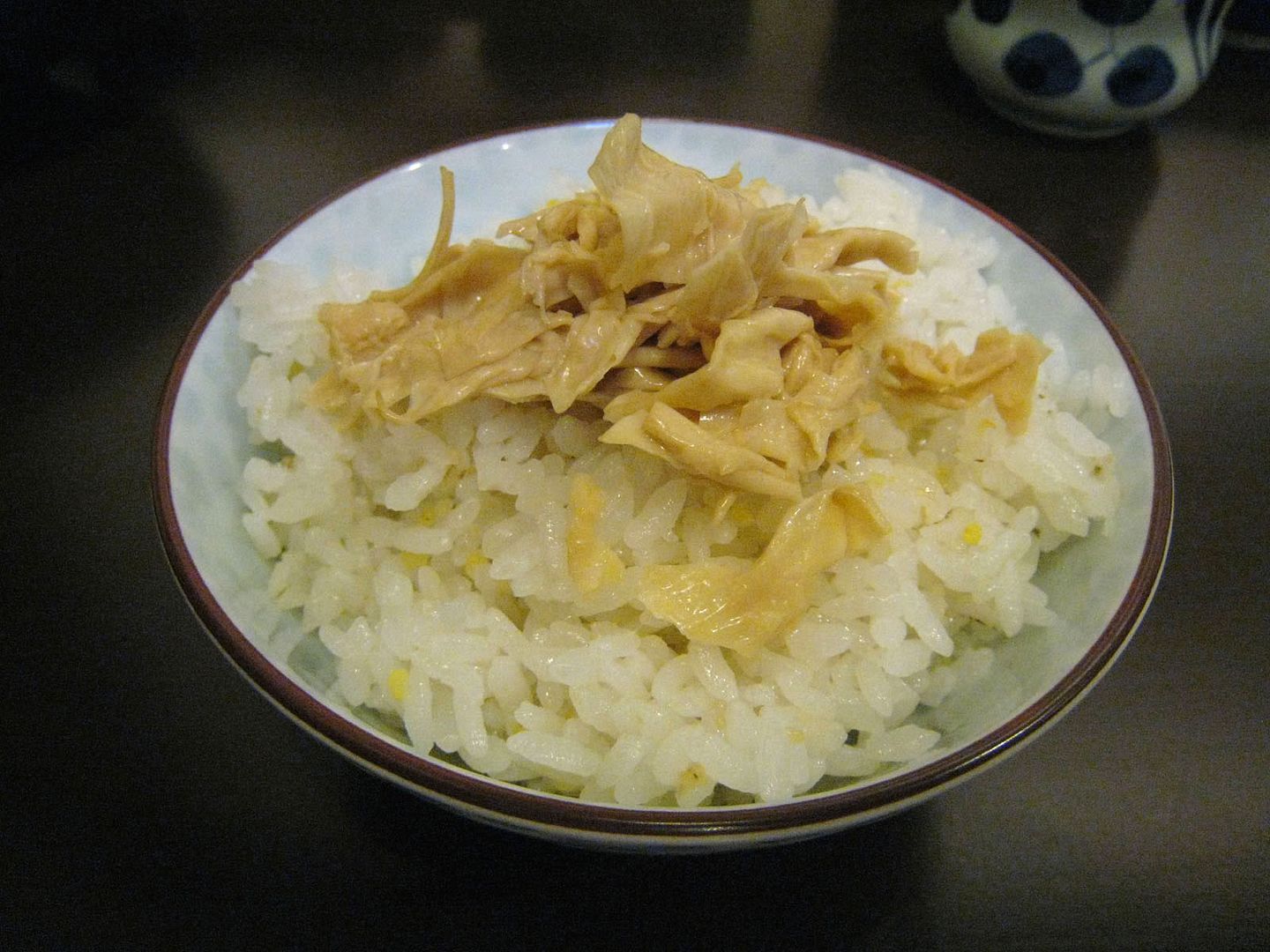 Komameya's website mentions that they use a special type of rice just for this dish and the grains were definitely standout from the standard rice. It was very fluffy and full-bodied. The Yuba steamed(?) into the rice blended well.

Along with this was a Yuba Soup (echoing the classic Miso Soup that usually accompanies the rice).



Visually it looks like clear broth with some Yuba, but it had a really nice broth flavor (all vegetarian I assume) and paired well with the rice.

And there was some "Yuba Tsukemono (pickles)" to complement the Rice and Miso.



The marinated Yuba in this Tsukemono dish was intensely marinated, and was the firmest in texture of the Yuba dishes we had today.

Finally, they presented a Yuba Dessert! It felt like Iron Chef with Yuba being presented in so many ways! :)



This was like a Yuba Flan, and the texture was SO silky smooth, but still retaining a "flan-like" texture, but it tasted nothing like flan. Definitely a soy-based dessert, but the texture was so unique (very hard to describe), like a super-silky pudding / flan, but with its own texture that I've never tasted before.

All-in-all, Komameya was a revelation to the world of Yuba cuisine. I've had nothing like this before and the preparation, quality and freshness of the Yuba was wonderful. In total, it cost only 2,800 Yen (~$28 U.S.) and I was totally stuffed by the end. Looking on their website, they make their own fresh Yuba and specialize in two different types. A quaint, wonderful and warm restaurant, Komameya is a wonderful example of Kyoto Yuba cuisine.

Rating: 8.8 (out of 10.0)

Komameya
こ豆や (二条店)
〒604-8381 
京都市中京区西ノ京職司町8-1
(二条駅・二条シネマから徒歩2分)
Tel: 075-812-3717

http://www.ueda-yuba.co.jp/komameya_fifes/nijyo/nijyo.html